Lights, Graphics,
Call-To-Action!
Ignite your ideas for business and beyond! From captivating business campaigns to unforgettable personal moments, our video, graphic, and digital prowess knows no boundaries.
Elevate your brand through expert video editing, innovative video production, captivating green screen recordings, and seamless live streams.
From corporate identities to attention-grabbing brochures, our design wizards bring concepts to life, crafting visual gems including event graphics and social media artwork.
Unleash your brand's potential with impactful ad campaigns and strategic content creation, designed to skyrocket your online presence and engage your audience effectively.
Picture this journey: Louis Krüger, the founder, began with a passion for graphic design, where the seeds of branding brilliance were first sown. But he had a thirst for more, delving deep into image theory through fine arts studies leading to numerous awards in the world of digital art, including captivating video art.
His graphic design prowess also continued to grow with multiple projects under the name "Louis Krüger Creates". As he ventured deeper into video production, Louis climbed the ladder at a production company, snagging promotions along the way. 
And now, here we are at LKC Media, a small and humble creative agency with a big heart. This is where passion, expertise, and creativity converge to make your brand's story truly unforgettable.
Ever felt like your brand's voice gets drowned out in the digital uproar? Struggling to make your message truly resonate?
It's not about generic videos or cookie-cutter graphics – it's about weaving a compelling narrative that leaves an imprint. Picture the frustration of lackluster engagement, the dismay of unrealized visions, and the realization that your brand isn't receiving the recognition it merits.
Enter our modest creative haven! At LKC Media, we pride ourselves on being small but mighty, and above all, attentive listeners. We're not just in the business of providing services; we're in the business of crafting experiences that captivate hearts and minds.
Whether you're a business aiming to carve your niche or an individual celebrating life's milestones, we're here to help your dreams take flight. Bid farewell to fading into the background – with LKC Media, you're about to shine brilliantly.
Have a Project on mind?
We can help you bring your ideas to life. Let's talk about what we can build and raise together.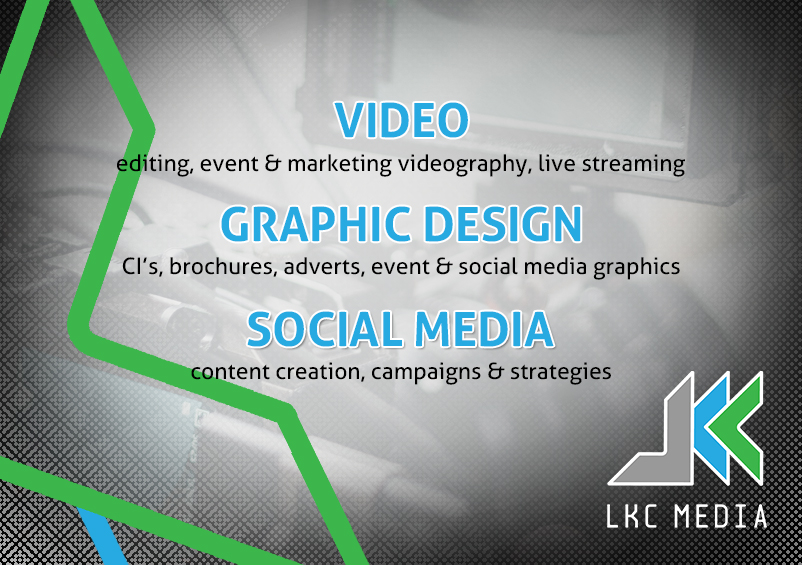 Our portfolio showcases a tapestry of meticulously crafted videos, captivating graphics, and strategic social media campaigns, each telling a unique story of innovation and impact.